Opening A Door Of Opportunity: Annual Scholarship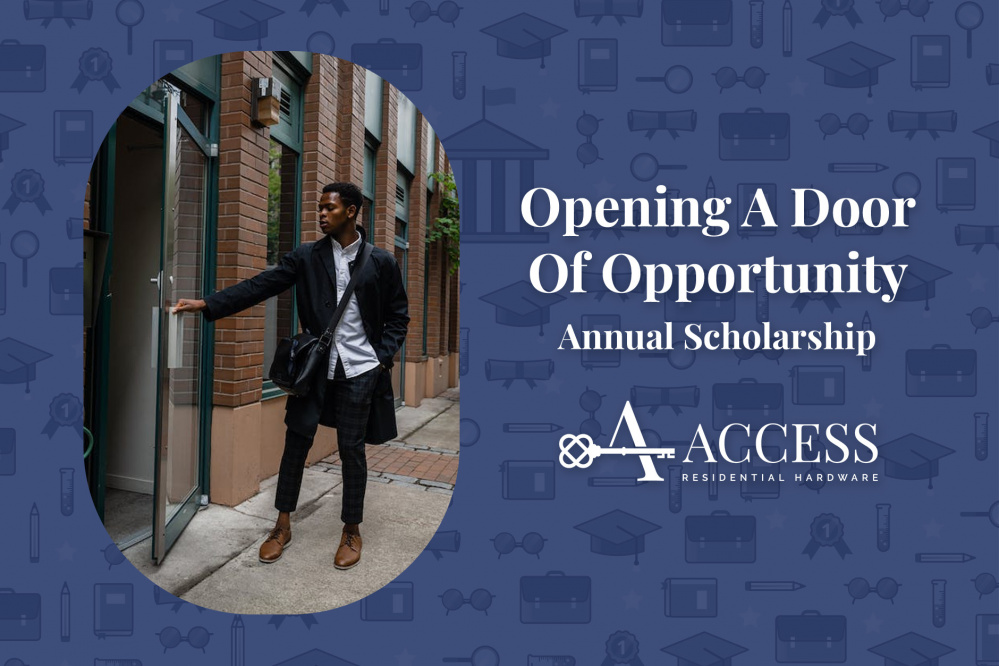 As the accomplished physician, philosopher, and author - Dr. Debasish Mridha - once wrote, "Education is the key to the door of opportunity." Higher education through a university, college, or trade school can provide you with the knowledge you need to land your dream job, the insights and perspective to help you launch an entrepreneurial venture or even exposure to a variety of different career paths that can help you figure out which opportunities you're interested in pursuing.
At Access Residential Hardware, our world revolves around door knobs and door handles that help individuals open physical doors, but we also place a high value on education that helps individuals open metaphorical doors to better life opportunities. We want to help students open doors to great career opportunities, which is precisely why we founded the annual Opening A Door Of Opportunity Scholarship.
Door Of Opportunity Scholarship Overview
The Opening A Door Of Opportunity Scholarship is a $500 scholarship offered annually to students nationwide. The scholarship was created to support students actively working to better themselves through higher education.
Students are asked to write a short paper reflecting on either the opportunities their education has already provided them, or the opportunities they're hoping to pursue after education. If you are interested in applying for the scholarship, you will be writing your paper to answer this prompt:
What opportunities have your college/university/trade school education provided you, or what opportunities are you hoping you'll be able to pursue after you receive your education?
There is no length requirement on the reflection paper. You could write two paragraphs or two pages. Our team will select a winner based on the quality of the writing and the visible level of thought put into explaining the opportunities.
Eligibility & Requirements
The Opening A Door Of Opportunity Scholarship was designed with very broad eligibility requirements to give as many students as possible the chance to apply. The scholarship is open to all US citizens attending a college, university, or trade school in the US full-time. There are no age restrictions placed on applicants. The scholarship is also open to students of any major attending any school in the United States. Applicants need to maintain a 3.0 GPA or above to be eligible. Scholarship submissions should include more than just a reflection paper. Students will need to submit the following documents to be considered for the award:
All of these materials should be emailed to outreach@access-hardware.com before the end of August.
Scholarship Award
The Opening A Door Of Opportunity Scholarship offers a $500 award that is paid out annually every September. The recipient of the scholarship will receive a $500 check made payable to their school. The award is designated to be used for tuition and other related educational expenses. The scholarship submission period ends on August 31st of each year and the winner will be notified via email by September 30th. When a recipient accepts the scholarship, they grant Access Hardware the rights to use the reflection paper, as well as, the recipient's name, and school on the Access Hardware website and any other marketing/promotional materials.
Scholarship Deadline
Submissions for the Opening A Door Of Opportunity Scholarship are due by August 31st of each year. Submissions need to be emailed to outreach@access-hardware.com by August 31st. Any submissions received after August 31st will be considered for the following year.
Door Of Opportunity Scholarship Privacy Policy
Access Residential Hardware respects your privacy and we want to provide full transparency into how your submission information will be used.
Information Collected
Access Hardware does not collect any personal information outside of the information you knowingly and intentionally provide via the scholarship form, your transcripts, and your reflection paper. Information collected in these documents includes your name, citizenship status, mailing address, contact information, and academic history. The information you provide is not sold, shared, traded, or rented in any way. Any information you provide us is exclusively used to select an annual scholarship recipient.
Security
We work hard to keep your information secure, but there's currently no way to ensure that any data sent over the internet is kept completely secure. Access Hardware cannot guarantee the security of any information you provide us. Please keep in mind that any information you send in your scholarship submission is sent at your own risk.
Scholarship Or Privacy Questions
Have questions about The Opening A Door Of Opportunity Scholarship or our privacy policy? You can contact us by emailing outreach@access-hardware.com.